Don't just write emails to write them - make them work for you!
Financial advisors are crunched for time and prefer to hear from fund companies via email. Information is then easily accessible when it is convenient for the advisor to review it. You can learn more about advisor preferences in our research report, "What Do Advisors Want?"
Not sure how to get started?
We've put together some of our best tips to help you kick off your email marketing program AND help you get the most out of it.
Take a look at our slideshare, Use Your Words.
Get tips on best practices, where to start, and tools to use. We even provide a handy how-to guide!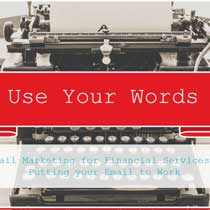 Questions? We're here to help! Let's talk.