The notion that wire service interviews are a waste of time is a common misperception.
Many spokespeople think only the "big guns" like the Wall Street Journal, Barron's, New York Times, etc., are the only ones that matter. That thinking is a big mistake!
Don't discount a wire service interview! There's hidden potential worth another look.
Stories that go out "over the wire" appear in the feeds of numerous newsrooms. Your single interview may appear in multiple publications reaching a variety of audiences. The Barron's interview? Terrific, but it only spoke to the Barron's readers. Why limit your reach?
The Value of Wire Service Interviews infographic shows just how far the reach of a single interview can be. Your interview, appearing in multiple channels and across various forms of media including both print and online, will be seen by more of your target audience.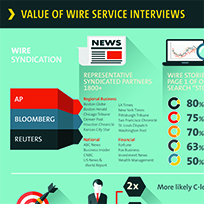 Our own Bob Tebeleff, VP + Partner, recently discussed the growing appeal of wire service interviews as he reflected on the changes he's seen over his 20 years in the PR industry.