At SunStar Strategic, our people are as successful in their personal lives as they are at work. Meet one of our team members, Melissa Murphy.
Maintaining an active and healthy lifestyle is one of the top priorities of senior vice president and partner, Melissa Murphy. Her dedication to a healthy lifestyle includes commuting to work on her bike, competing in full- and half-marathons, as well as taking multiple fitness classes each week.
After spending part of her childhood in ballet and jazz dance classes, Melissa wanted to find a way to continue her dancing. She began taking "barre" classes nearly five years ago. She describes barre as a "full body workout using elements of ballet." After two and a half years as a student, Melissa decided it was time to share her passion with others and become a barre teacher. After receiving her certification, she began teaching classes at Xtend Barre Old Town, a studio just a few blocks from SunStar's office.
Since then, Melissa has been teaching an hour-long barre class three times a week. With about 20 students in a class, she particularly loves seeing the transformation in each of her students. "To me, it's rewarding and exciting to not only see the physical transformation of a student, but also the mental transformation that occurs when they realize what they are capable of."
Not only has teaching barre classes allowed Melissa to maintain her active and healthy lifestyle, but it's also given her the opportunity to translate some of its positive traits to the workplace. "Teaching class has further developed my leadership skills and made me a more confident public speaker." She believes that the energy she and her clients gain from the class helps create a more productive and creative mindset at work. Melissa's barre classes always end with the class applauding after a job well done. She loves the affirmation that comes from the applause, jokingly adding, "how often do you get a standing ovation when you leave the office?"
Melissa has been a part of the SunStar family for over 17 years. After receiving her Series 6, 7 and 63 licenses, Melissa has excelled working with our asset management clients, as well as financial advisors. She works as an account executive, handling the day to day responsibilities of clients, as well as long term strategic planning. You can keep up with Melissa and her fitness journey on her Instagram account @BurnItOffDC.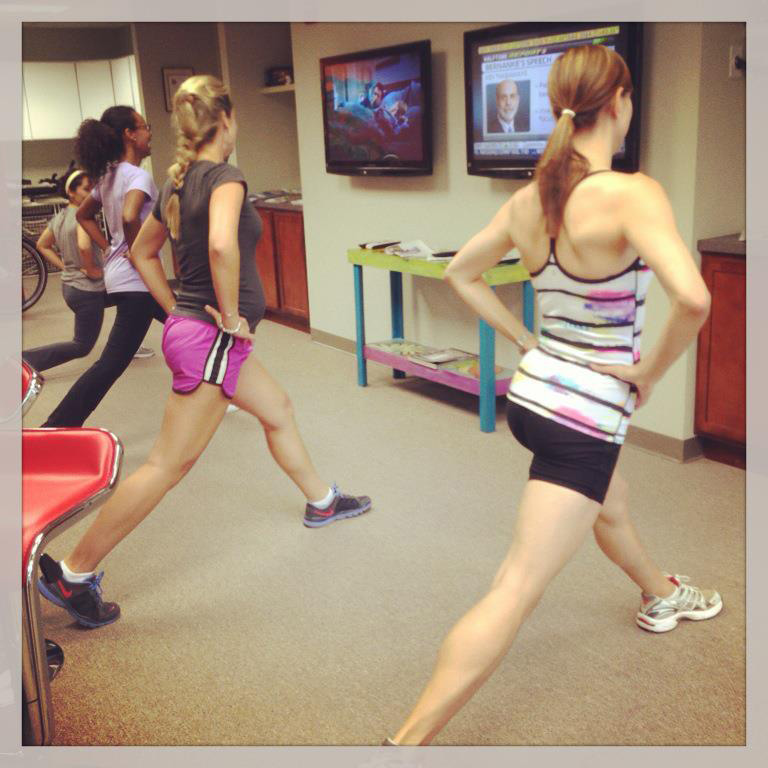 Melissa Murphy leading colleagues at SunStar Strategic in a workout.