Runs around Arlington
A former cross-country runner, Lindsey is no stranger to running long distances. Following a few injuries, she wasn't able to run as consistently over the years, yet she is using all of this free time to get back into it (six feet apart from everyone, of course).
She has spent much of the last month running (with walking breaks here and there) on various trails throughout the Arlington area.
On Sunday, the gorgeous weather motivated her to go on her longest run in a while. Lindsey ran through Crystal City and hopped on the Mount Vernon trail, cutting through Gravelly Point Park.
Unsurprisingly, there were many people out walking, jogging, and biking; however, all were conscious of keeping some distance between one another.
She stopped to take a picture of beautiful flowers, with the Washington Monument peeping through in the background. This was taken at the Navy-Merchant Marine Memorial.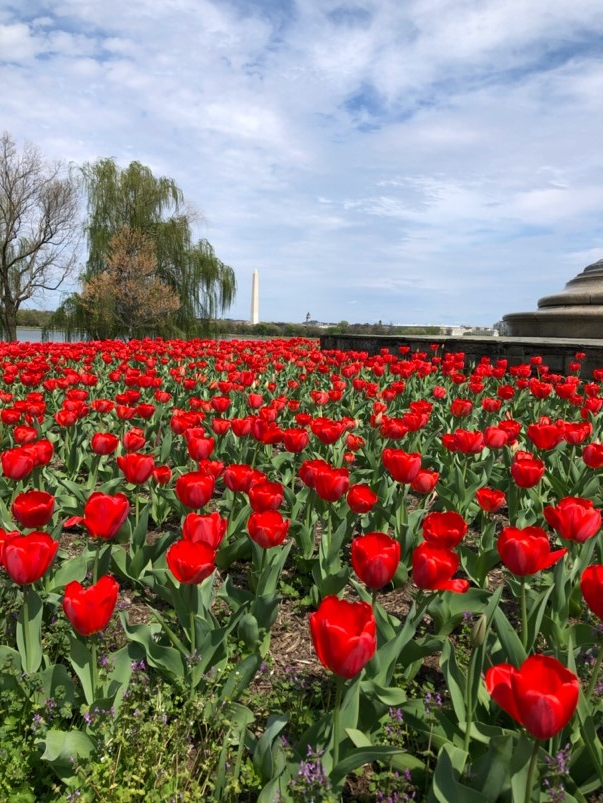 Overall, it was a good run, but it probably would have been better had she worn sunscreen (yikes). She made sure to turn on the "Outdoor Run" function on her Apple Watch, and stopped it once the run was complete. Over ten miles, later she was finally home!
Lindsey's Top 5 TV Show Recommendations
Last but not least, Lindsey has spent the vast majority of her time binging various TV shows. A season a day? Maybe… Here is her top 5 list of binge-worthy shows (in no particular order).
The Americans
Grey's Anatomy
Love Is Blind
Homeland
Law & Order: SVU
How are you keeping your sanity during this crazy time? Take a look at how the rest of our staff has been keeping busy in our SunStar "Stays-At-Home" series. Stay tuned for more installments!
In case you missed earlier posts of SunStar "Stays-At-Home:"