Living under a "stay-at-home" order has brought some Americans to uncharted territories.
Workers are setting up remote offices, businesses and schools are working out contingency plans and the situation has sent some parents scrambling.
SunStar's Kerri Fronczak found herself juggling full-time work, parenting, and homeschooling. The mandate not only turned out to be the catalyst needed to clean out her basement but also inspired her creativity!
Roller Rink
An avid roller derby player, raising two young skaters, Kerri cleared out half her basement to create a roller rink for herself and her family. It had been two long weeks without derby or any skating at all. Kerri was just kicking off her fourth season which came to a screeching halt. Used to having practice three nights per week, the sudden cessation was tough to take.
In addition to her skating with her own team, for the 2020 season Fronz, as she's known in the derby community, had started coaching the Chicago Riots, the junior roller derby team. Her 9-year-old daughter, Frannie (aka Frantastic) had just joined the riots and was enjoying her new teammates and learning new skills. She too was saddened to suddenly lose derby.
The initial plan was simply to clear a place to skate.
Once the area was cleared, the floor swept, the skating began! Kerri's daughters Frannie and Charlie (age 7) were delighted with their new rink! It was new, fun, and a great way to burn off some energy!
The home "rink" was nice, but having grown up in the 70s and 80s there was just one thing missing. One afternoon, when her husband took the kids for drive Kerri, installed a rotating, color-changing party light and the transformation was complete! The girls came home and after some jumping and squealing laced up their skates and hit the floor.
The effort to clear the basement has paid off and the kids are having a blast and Kerri has space to work on footwork and drills until she can return to derby.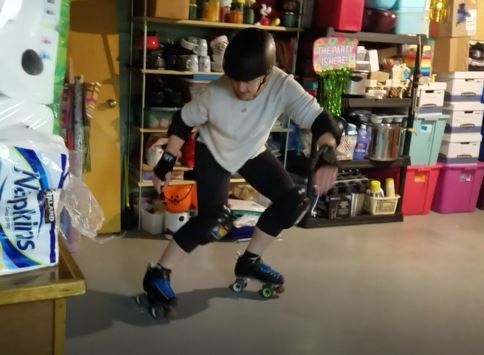 Art Auction
Nine-year-old Frannie had been excited about participating in her school's upcoming art auction where student artists are able to showcase their work at an evening event with hors d'oeuvres! And no jeans or sneakers!
With the event being canceled, what else could a family do but hold their own art auction? The girls created several pieces, prepared hors d'oeuvres, and the bidding began. With M&Ms as currency, the auction was open and the family had fun outbidding each other.
These are strange and often difficult times. What are you doing to stay sane? Kids at home? How are you helping them stay active and engaged?


Stay tuned for more installments of SunStar "Stays-At-Home!"