The annual Schwab IMPACT Conference was held last week in San Diego. It's a four-day gathering of RIAs and the firms providing investment products and services to this important investor category.
CNBC broadcasts live from the event and the media gather to report on timely topics and new items that arise from the event and its participants.
After speaking with a few RIAs and exhibitors to get their take on the event, the overall vibe reported was low energy. While the exhibit hall offers an array of information-gathering opportunities (and fun activities), attendees were directed toward one corner of the hall to enter the keynote room, a move which left about a third of exhibitors without forced foot traffic.
I spent quite a bit of time in the exhibit hall as interestingly enough the media center – a central part of my experience – was located on that end of the room.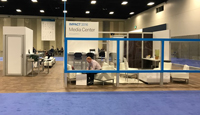 Booths in the exhibit hall ran the gamut from simple banner stands to elaborate enclosed seating arrangements.
The content is always solid and this year's keynote speakers were excellent, capped off with a motivational and humorous speech by Magic Johnson.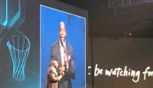 Save the date for the next Schwab IMPACT Conference: Chicago's McCormick Place, November 14-17, 2017
It's critical to have a strategic approach for advisor conferences to maximize ROI. We've compiled some of best tips and information on best practices here.