September is historically the worst month for the stock market. Will the same be true for 2017?
Things are shaping up to be volatile outside of Wall Street with several geopolitical events taking place. It's uncertain right now if the markets will react.
During a past period of market volatility SunStar Strategic held a round table discussion with asset managers. During the discussion, participants shared the concerns they were hearing from their investors and advisors and how they were responding.
It was a lively discussion that resulted in timeless takeaways. You can read the full report here and see 10 actionable ideas to help alleviate your investors' concerns.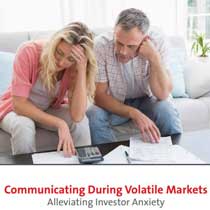 If you'd like to view the full transcript from the discussion you can find it here.
Regardless if the markets stay calm in September or if volatility ensues, take advantage of these great tips to help you communicate with investors and address their concerns.