To connect with clients and prospects, it's common for financial advisory firms to invest in strong marketing programs. As year end approaches, many firms are reviewing their marketing efforts and planning the course for the year ahead.
SmartAsset recently surveyed 270 financial advisors regarding their marketing efforts for 2022 and their plans for 2023.
Key Findings
More than 9 in 10 say marketing efforts are a top priority
Using lead generation platforms is increasingly popular as a marketing strategy among advisors in 2022.
Advisors look toward increasing social media outreach in 2023.

Social Media
Of the advisors surveyed, only about 12% reported social media as a primary component of their marketing strategy for 2022; however, there are some plans to increase for 2023. As with many professionals, LinkedIn is the most popular social media platform among advisors.
Changes for 2023
Many advisors anticipate lead generation and social media platforms will see the largest increase in importance across all strategies. They also believe there will be an increase in in-person events.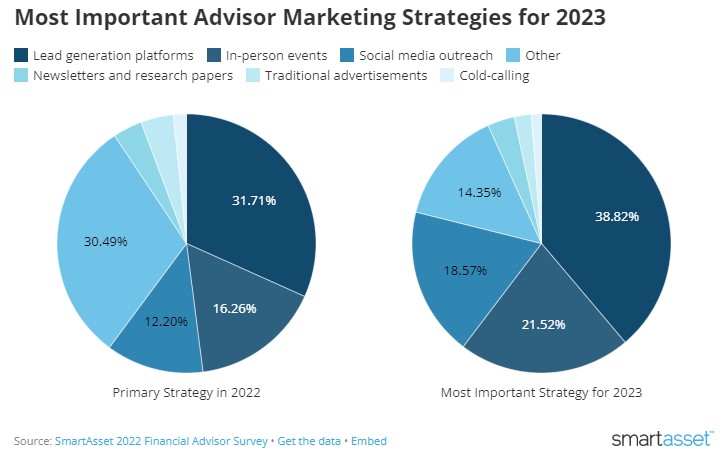 More detailed results from the study can be found here.
Do you have a marketing plan in place for 2023? SunStar can help you put together a killer marketing program – give us a call!