Good press is valuable so make the most of it.
There are many PR strategies - make sure you're choosing wisely!
Spending time and resources on tactics that won't boost your visibility isn't worth it.
We've compiled what we've learned over our 25-years of experience. Our infographic highlights what works and what doesn't.
Take a look: Savvy Spenders: Getting the Most From Your PR Dollars.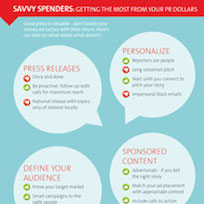 Allocate resources wisely.
PR budgets aren't limitless. Maximize your PR dollars by planning wisely from the start. Looking at the big picture and identifying proven successful strategies will help you maximize your efforts while boosting your visibility.