At SunStar Strategic's virtual conference, Strategies to Engage Advisors & Attract Assets, Warren Miller, ISS Market Intelligence, tells fund managers how.
Warren Miller, CFA, Market Intelligence, shared invaluable insights in his presentation, Thriving in Asset Management.
Warren shared 5 key levers he believes asset managers can pull to get better at the "asset management game."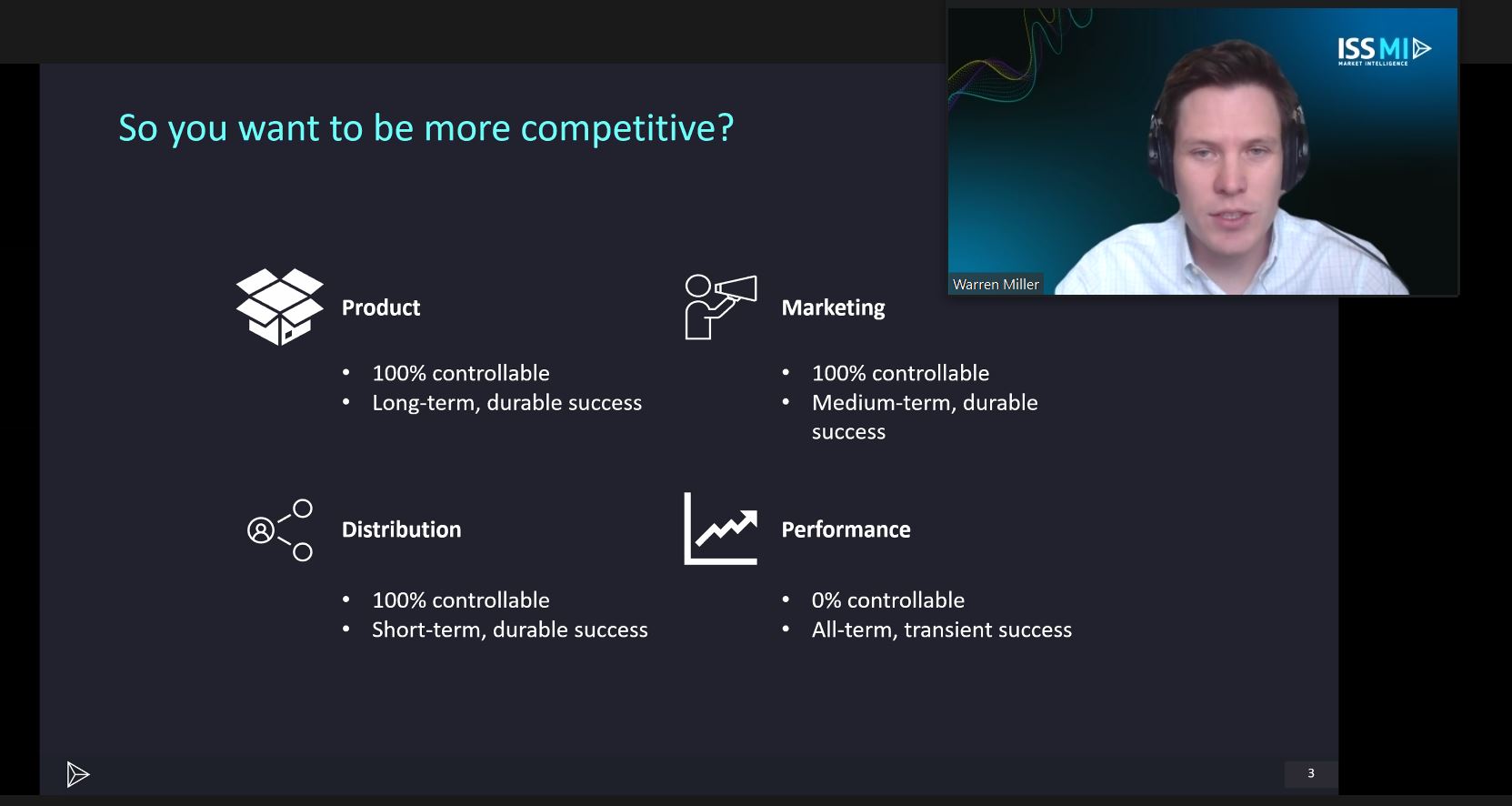 He shared four of the levers in the graphic above – product, marketing, distribution, and performance.
The fifth lever is what happens when you connect product with marketing, coordinate it with distribution, and match it up with performance. It's how you tie all of those pieces together and the decision-making that you layer on top of it that makes the difference.
Warren broke down each lever providing key insights and actionable ideas. He shared data on key drivers of fund pricing and flows and the importance of adapting distribution strategies for the long term.
His presentation was well-received, and attendees picked up new tools to put into practice.
You can find the video, transcript, slides, and Q&A for Warren's presentation, as well as the six other presentations here.

Miller, Warren, CFA
ISS Marketing Intelligence
Warren is the Founder and CEO of Flowspring, Inc. a leading provider of advanced competitive intelligence for asset managers, which was recently acquired by ISS Marketing Intelligence.
The software he developed aims to give quantitative support to all business decisions faced by asset managers from product launches and rationalization to optimal pricing strategies and M&A activity.
Prior to founding Flowspring, Warren was Head of Asset Management Software and Head of Quantitative Research at Morningstar where he led the development of global multi-asset class risk modeling, quantitative investment signals, and systematic institutional investment strategies.
Warren studied Industrial Engineering and Economics at Northwestern University, earned his MBA from The University of Chicago Booth School of Business, and is a CFA charterholder.